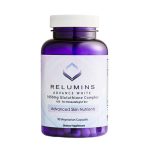 Relumins Advance White 1650mg Glutathione Complex
In stock
Relumins Advance White 1650mg Glutathione Complex
LKR29,500.00
Relumins L-Glutathione complex is the most advanced oral Glutathione formula available. It is the most effective oral skin whitener available and has numerous other health benefits.
– 90 Vegetarian Capsules
– 1650mg L-Glutathione complex for maximum increase in serum glutathione
– Halal & cGMP Certified
– Proven safe and effective in numerous clinical studies
– L-Glutathione booster, 225mg of Alpha Lipoic Acid Which Has Been shown to Naturally Support High Levels of Glutathione in the Body
Glutathione
Competitively inhibits melanin synthesis in the reaction of tyrosinase and L-DOPA by interrupting L-DOPA's ability to bind to tyrosinase during melanin synthesis. These results indicate that glutathione inhibits the synthesis and agglutination of melanin by interrupting the function of L-DOPA. It is the master anti-oxidant that helps fight free radicals that cause skin damage. It also contributes to good liver function.